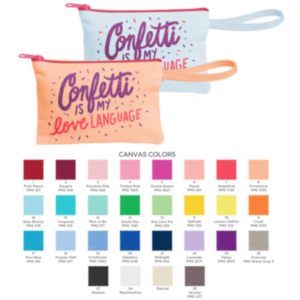 It's that time of year again! Holiday presents, family dinners, parties, outdoor activities in the snow, and so much more! We hope this time of year is filled with joy and quality time with the people you love. And we hope your stocking is filled with your favorite stocking stuffers! If you're looking for the perfect stocking stuffer to gift to your loved ones, employees, clients, or anyone else throughout the holidays, look to custom pouches. They're easily customizable, can fit in any size stocking or gift bag, and are festive! Let's check out some of our favorites for the holiday season:
Colored Zipper Pencil Pouch – This pencil pouch is perfect for kids and adults alike to keep their writing utensils organized while on the go. Customize it with your logo or favorite saying or add a holiday-themed picture or design! Customize the color of the zipper to match your vision. You can fill this pouch with your favorite writing utensils as the perfect little gift for your audience! Also comes in colored cotton.
Colored Cotton Wristlet – wristlets make great stocking stuffers, and this colored cotton one is no different! It can hold trinkets, tools, change, cards, and more. Customize this with your favorite holiday design! You can pick the cotton color and zipper color on this custom pouch to make it something unique. This also comes in natural cotton color as well for a more neutral look!
Medium Linen Drawstring Bag – Gifting away jewelry this holiday season? Creating custom pouches like this one to keep them safe and secure make the gift all that more meaningful. Plus, this linen drawstring bag comes in 3 different sizes, so you can pick the perfect fit! These are perfect for the holidays in addition to other big events like weddings, showers, parties, and more.
Shop all of our custom pouches here. We have a whole section on our site dedicated to these popular and versatile promotional products! Whether you're adding them to stockings, gifting them away at the office, or selling them as part of your small business …they're sure to help you finish the year off strong!