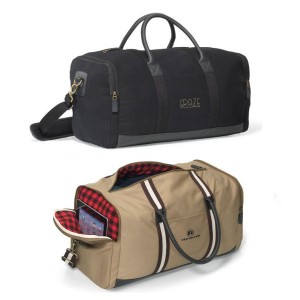 We've completed phase three of our product expansion, and Bulletin Bag [.com] is thrilled to now offer a hand-picked selection of popular custom duffel bags to our clients. Our duffels can be screenprinted, embroidered, or printed in full color with your logo or artwork.
These bags are a great choice for number of different projects because of their utility, high perceived value, and durability. From schools to sports teams, business travelers to fitness clubs—our high quality custom duffel bags convey your messaging with style.
Sports clubs love team duffel bags to unify their appearance. When every player carries the same bag, with the team mascot emblazoned on it, it brings a polished look to the group and creates a sense of unity. Our duffels are large enough to store uniforms, equipment, and extras. Look for bags with water bottle pockets for the ultimate in gear toting (and check out our sister company Bulletin Bottle [.com] for a custom water bottle to complete the look)!
Looking for gym bags to stock in your fitness club? Add your logo and offer these for sale to your members in your shop. Our durable custom duffel bags are available in colors that compliment any branding and appeal to most recipients.
Duffels are also perfect for business and leisure travel. They're small enough to be carried on a plane, but large enough to tote clothing and other travel necessities with room to spare. The same goes for summer camp and family camping. Tote your gear with these rugged bags!
Our custom duffel bags are made from high-quality, durable polyester or cotton canvas. We also have a fully custom cotton duffel that is made in the USA! No matter what the recipient uses the bag for, a quality custom duffel bag will be used over and over—and your messaging will be seen every time they do!