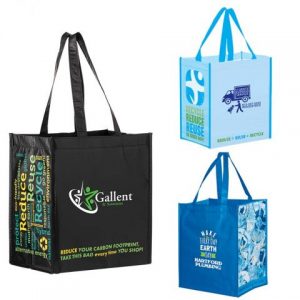 Recently more and more states have been passing legislation to ban plastic bags. Banning plastic bags is an environmentally friendly step towards decreasing plastic waste. Each state is doing different things, with some businesses completely banning plastic bags and others charging fees for them. This rise in bag bans has caused many businesses to think about carrying reusable bag options.
Reusable bags are a great way to make a memorable impression. Being able to display your logo on a great bag will catch people's eyes left and right. A sturdy reusable bag is that added touch to your next project or event that makes it shine! We've added some new bags to our collection that we're sure will be a big hit.
When we were looking for bags, we wanted to find the hidden gems. We found so many styles and materials that we know you'll fall in love with! One of our favorite additions is our Recycled rPET Fanny Pack. This fanny pack is made with recycled materials and is perfect for the summer! It features a waist belt that can extend to around 47 inches so you can get the perfect fit. Through a partnership with 1% For The Planet, one percent of sales of this and all EcoSmart products will be donated to nonprofits dedicated to protecting the planet.
If you are interested in recycled materials, but you need something a bit bigger than look no further then our Laminated rPET Grocery Tote. This big bag is perfect for a grocery run and the laminated look makes it easy to clean! The size is big enough to hold everything that you need, while also promoting an environmentally friendly lifestyle.
Sometimes you want a big bag, but you still want to stay organized. When you're looking for a bag with more structure, turn your head towards our Cotton Grocery Bag with Bottle Holders. This bag is made from cotton canvas and has 4 sewn-in bottle holders to keep everything organized. We love the structure this bag provides. The cotton canvas helps keep a casual look while proudly displaying your logo.
While bag bans can change the way we shop, sometimes change is for the better. With the summer starting it's important to make sure you're prepared for the fun ahead. This small change is a step towards being more environmentally friendly.