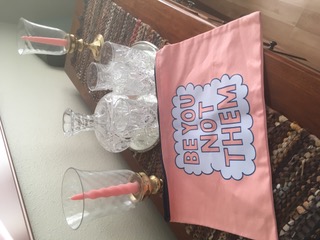 If you're looking for a super large, zippered pouch with lots of ways to pull your branding in, our XL Colored Cotton Zipper Pouch is one to look at! It's one of many USA made pouches and bags that we offer, and boy is it versatile!
When we first got the bag to test, our staffer shoved a 13" MacBook in to see how much room was left—and there was plenty! Note that we don't necessarily think this is the best tech bag since it's not padded, but if you're looking for light protection or are super careful with your things, this definitely could do double duty as one.
If you're not willing to sacrifice your tech, never fear. We found so many different uses for this cotton pouch that it's officially a staff favorite. From makeup to shoes, work files to beach necessities—everyone wants to use this for something different!
The thing we love most about this colored cotton zipper pouch (and the other ones in this line) is how easy it is to pull your branding in to make a truly unique marketing item. The ability to pick your cotton color AND your zipper color enables you to pull in multiple branding elements without having to pay for multiple color designs. The full bleed capability means you have the entire product to use as your canvas, too!
Our USA made custom pouches are, in essence, a very simple design so it's amazing how incredibly popular they have become over the past few years. Our factory takes great pride in manufacturing these for us, and you are sure to notice the quality when you get one in your hand. Regardless of the size you choose, your recipients will always find a clever use for the pouch you give them!