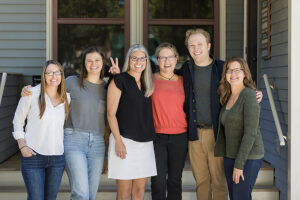 There are a lot of promotional products companies out there, we know. One search on Google will show you thousands of different companies you can order your products through. Most of the ones that you'll see at the top of the page are paid ads from huge companies, with tons of similar looking products and a lot of money to spend on marketing. So why bother with Bulletin Brands, a small business all the way up here in Maine?
In our totally unbiased opinion, there are a lot of reasons to shop with Bulletin Brands, and a lot of things that set us apart from the other companies in this industry. But let's highlight the main ones:
Hand Selected: We don't put just anything on our sites. Each product you see has been hand-selected and personally tested by our team to ensure it meets our high standards. When you work with us, we've done the research for you.
Sustainable: Over-consumption is a real problem, and in an industry that is filled with cheaply made products, we feel it's our job to help steer people towards products that are built to last and stay out of landfills. Every product on our site is made to do just that.
Safe: We sincerely care about the safety of our clients, which means we do extensive research to ensure that each product we sell has been properly tested and passes with flying colors. We have fostered close relationships with our vendors to ensure we stay up to date on all safety requirements. We also ensure that the products we sell are made ethically. We don't take the easy or the cheap route here.
Read more about our business and what sets us apart over on our About Us Page here. And have you met our our amazing team of staff yet? The people behind all the emails, phone calls, and live chats you receive. Learn about our close-knit team here. We're proud to be a small, woman-owned business over 18 years! We also have a whole site of reusable drinkware, check it out here. We hope you feel our passion with each order we fill. Reach out today to learn more about our process or products, start an order, ask a question, or simply say hi!