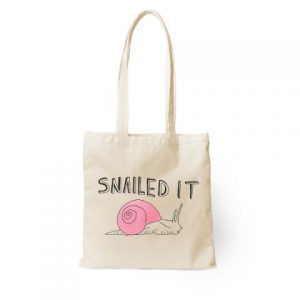 When looking for a tote, you want something that will leave a lasting impression. It needs to be functional, without being overwhelmed by the space that these bags can fit. We spend time individually picking out pieces we love and avoiding ones that do not meet our specific requirements, and we can confidently say that USA-Made totes are the way to go. The USA-Made Cotton Flat Tote fits every requirement we have!
These USA-Made totes are perfect size for any purpose and fashionable enough to use for any event. The noticeable sturdy quality of this bag makes it one of our best sellers. The full-bleed imprint also helps your logo or band stand out against other competitors. Our staffer Mary recently tested the Cotton Flat Tote, and she can't stop raving about it!
What reason would you have to use this bag? Every reason! Our staffer Mary has been using this bag for her everyday errands and it's the perfect bag! Mary tells us that she "loves the space in this bag. It's not so big that I feel like things will get lost, but also not so small that I feel like I can't fit everything I need" and we couldn't agree more. It's the perfect bag for holding all of your essentials, plus a little more.
Not only are they functional, but they're stylish! The Cotton Flat Tote's natural color fits with any outfit or outing and gives your logo or design an attractive aesthetic. Mary let us know to "be prepared to get compliments because you will. People also loved it when they found out it was also a USA-Made tote!" The full-bleed imprint also makes your design the main focus of the room.
These USA-Made totes are perfect for carrying books, papers, laptops (make sure you get a laptop sleeve), and any other work essentials. A flat tote means that all the seams are pressed flat, so there won't be any gussets. This means there isn't a flat bottom for things that would need to sit upright. Mary says that "you have to be careful if you're packing things that could spill or stain. If your water bottle isn't screwed on tight enough it could spill since there's no way to keep it up."
One tip Mary had for avoiding this was to get a water bottle that has a hook so you can attach it to the strap of the bag. We love our Insulated Sports Bottle with Carabiner for keeping our drinks cold and being able to clip right onto our tote. That way you don't have to worry about it rolling around in your bag, and it's easier to take a quick sip!
In short, we love USA-Made totes, especially this one. From the comfortable straps to the great natural color, it's the perfect bag for all of our needs. This bag is a great option, but if the dimensions are a bit too small for your next project, then try our Large USA-Made Cotton Flat Tote. This bag has all the great features of our USA-Made Cotton Flat Tote, but a little bit bigger. They're perfect for larger projects or conferences when you need a bigger catch-all tote.