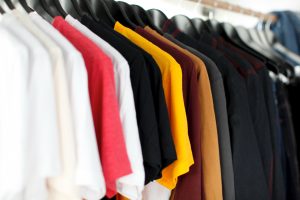 Did you know that Bulletin Bag is only 1 of 3 branches of Bulletin Brands? We have thousands of different products between our sites that will fit almost any occasion. One category of products that is super popular within the promotional products industry: apparel. And Bulletin Basics is the site for that! Over on Bulletin Basics we have everything you need to create custom apparel to showcase your brand or organization perfectly. But you may be wondering what kind of apparel and designs are worth your time and resources. Let's talk about custom apparel trends of 2022!
 In a world where promotional products are everywhere, how do yours stand out from the crowd? Paying attention to trends helps you do just that!
Vintage and retro designs. We know that fashion trends are usually cyclical. Old fashion trends come back in style, and new ones go out of style only to come back a few years later. And custom apparel designs are no different! The nostalgia of these trends takes people back to their youth and are a fresh way to merge with them the products of today.
We all know that most people started to work from home the last few years which means …hello sweatpants! Loungewear is a huge category of apparel that is super popular and is commonly used for almost everyone. According to Forbes, pajama and loungewear sales have increased 143% since the beginning of the pandemic. Wow!
Unisex Clothing. This one is self-explanatory, meaning that there has been a draw towards unisex clothing (clothing that is made without a specific gender in mind). This makes custom t-shirts and similar garments for a crowd a lot easier! One style of t-shirt works for a group of people, rather than needing to find different styles and fits. Custom tops are a fun and simple way to create something that's easy to pass out and replicate many times!
These are just a few of the many different trends that are showing out for 2022! You can shop all our custom apparel here, along with lots of different promotional items for your project. These trends are new and always changing, so even if we don't have the exact apparel item you're looking for, be sure to reach out to our team and we can often source it for you! We have thousands of products between our three sites, but we can always go above and beyond to find the right product for you, even if you don't see it on our site yet.
Custom apparel pairs perfectly with customized bags! We have our entire Bulletin Bag site dedicated to reusable bags …from an insulated tote bag to a school backpack and everything in between.