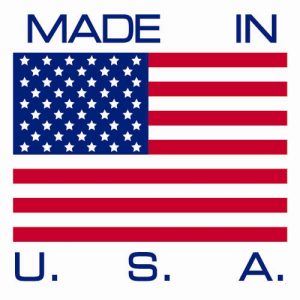 Question: Did you plan 2019 custom bag projects around the possibility of skyrocketing tariffs? If you did, you must have that ever-elusive crystal ball! Can we borrow it for a sec?
So your marketing plans are in a bit of a tailspin because the custom bags you budgeted for are 25% or more higher than you thought they'd be. What do you do? Scrap it all and try again next year? Perhaps. But there's another option: choosing USA made custom bags and pouches.
Assuming you're just like us, you're seeing an increase in price uncertainty around many (most?) of the custom bags and other promotional products you've been planning on buying this year. Hey, it's no secret that China produces a lot of reusable bags!
We've been encouraging our clients to look towards cotton bags and jute bags, as these textiles tend to come from India, Turkey, and other countries unaffected by the raise in tariffs. But now, we are facing the threat of higher duties on goods from those countries too.
For many years, we at Bulletin Bag have been proud to carry a wide selection of USA made bags. Two years ago we started carrying USA made pouches, and that category quickly became our best selling! We only work with a few factories in the US, and our strong relationships translate to high quality, stylish items for our clients. Our USA made bags come in a huge array of colors at all price points, styles, and print techniques. Some of them are even union made!
With new and impending tariffs on many of our custom bag imports, USA made bags and pouches now mean more than supporting a local economy—they mean cost savings! We're not importing these, so their prices are stable. And you're not sacrificing a lick of quality by choosing to buy USA made bags. Choose from high quality cottons and polyesters, in loads of bag types!
While tariffs definitely put a damper on budgets, there's no need to scrap your projects completely. And remember, we're all in this together! So if you have a budget that you have to adhere to, and are having trouble finding something that works, just let us know. As always, we're here to help!