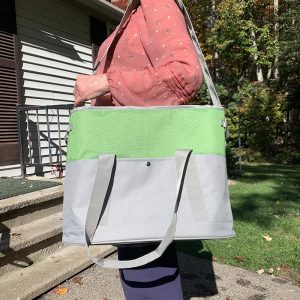 We've love going outside and watching the leaves change, and one great way to take advantage of the weather is with a picnic! We love enjoying our day outside and having food with us just makes it better. Our Hearty Cooler Tote is a great option when you need an insulated bag to keep your food fresh!
We love insulated bags, and this bag has so many great features! Our staffer Mary has been trying out our Hearty Cooler Tote and she has a lot of great things to say. Read along below to find out why this bag is at the top of our list!
Our staffer Mary has been using this bag throughout the summer, and she can't get enough of it. "This tote bag is perfect for holding all of the food and drinks that I bring with me! There's a ton of room inside this bag and the flat bottom helps everything stay upright and not tip over."
Since our Hearty Cooler Tote has foam insulation and lining it helps keep your food as fresh as possible, and the zippered top helps to create a barrier between your food and the elements. This bag also features an adjustable shoulder strap and side carrying handles, giving you two carrying options!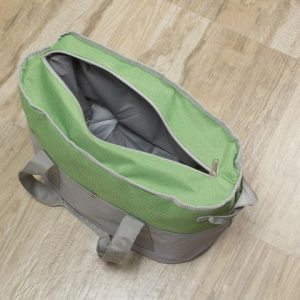 The front of this bag also features a snap pocket, which is great for all the extra things you need to bring with you. Our staffer Mary says "I like using the front pocket to hold utensils or napkins. It's also great for keeping my personal items on me if I don't want to also carry around a purse".
Our Hearty Cooler Tote is a great insulated bag that can handle all your needs! It's spacious and sturdy, perfect for carrying all your picnic needs. Our staff can't get enough of this bag, and it's easy to see why!