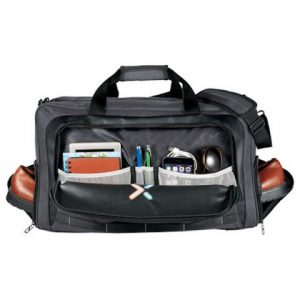 Traveling is something that everyone loves! If it's 10 miles or 10,000 miles, the excitement of travel is something we all love. Having custom luggage helps make traveling easy, while also getting your name out there to people you may have never reached before! From a carry on to rolling luggage there are so many bags you need to get you through the airport line.
Custom luggage can be anything from a travel pouch to something way bigger. Having bags for your things is a great way to stay organize on your way there and back. While it may seem silly to pack bags inside of bags, you'll thank us when everything you need is right where you want it!
Let's start with the small things. Chords, headphones, and portable chargers all deserve their own place. A perfect pouch for this job is our Wool Triangle Travel Pouch! The triangle shape means there's plenty of room for all your extra things you want to keep close. We love the plaid lining on the inside since it adds a stylish touch.
What about TSA? Going through security isn't our favorite thing, but it's for the safety of you and others. To make the line go faster try our RuMe Reveal Quart Travel Pouch. This toiletry bag is perfect for holding liquids when traveling. This pouch is semi-translucent and TSA compliant, so you don't have to worry. The material is water-resistant with a zipper closure to help keep any spills or mess contained!
Finally, you need some custom luggage to carry all your clothes! We love the eleven Duffel with Garment Bag. This bag is a carry on sized duffel with a removable zip-out garment bag, so you get the best of both worlds. We love the garment bag since it fits right inside the duffel and can easily be used whenever you need to. There is also a large, zippered pocket in front of the duffel perfect for your travel documents or any papers. There are also integrated shoe pockets which help keep the dirt off your clothes!
Traveling might not be in your plan for a while, but when you do travel don't forget all the essentials! It's stressful to pack and gather everything you'll need, so cut down the stress where you can. Having custom luggage and accessories makes your life easier when you're on the go!