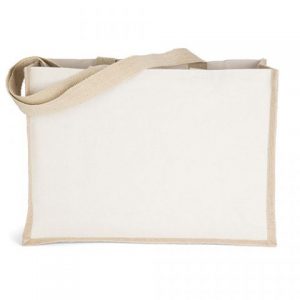 At Bulletin Brands, we take pride in offering you the highest quality products we can find. We love trying out our products firsthand to ensure they meet our standards, and so we can truly share our experience with you! Our staffer, Ashley, recently tried out our Cotton and Jute Tote Bag. Let's just say she absolutely loved it!
Our Cotton and Jute Tote Bag is a stylish and sturdy reusable bag that features generous imprint area for your logo, paired with beautiful natural colors. The colors are one of the features that Ashley loved the most. "I love the light natural color the cotton has, and the jute sides are such a pretty compliment to it." If you're a fan of natural materials like cotton, this may be the bag for you! It's showcases how simple yet stylish a cotton tote can be.
She loved the rectangle shape of the bag as well, saying that the wider area was perfect for grocery shopping and carrying books. She says that it's perfect for carrying fruits and vegetables from the store but is also sturdy enough for cans and heavier objects as well. "It's super versatile!"
Another great feature of this tote bag is the long straps. Ashley says these straps are very durable and the perfect length when carrying the tote under your arms, even if it's filled with things at the store. The straps are soft but sturdy, making it comfortable to carry.
"This quickly became a "go-to" bag for me, one I would grab almost every time I left the house". Overall, Ashley can't say enough great things about this bag! Its natural-looking aesthetic and large area for a logo make it a perfect choice for your next promotional product!