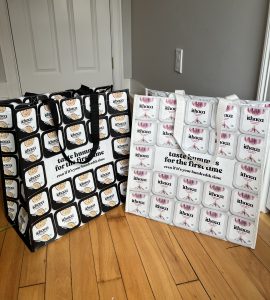 We know this time of year gets busy with the holidays just around the corner. Corporate events, family parties, lots of travel, shopping, and so much more fill our calendars. With all the hustle and bustle, we know it's important to have the right gear to get you through! Reusable grocery bags are an essential part of the holidays, from transporting food and drinks to parties, grocery shopping for the big dinner, or giving gifts in a custom bag. You're going to want these bags by your side this season!
Reusable grocery bags have hundreds of uses, they're extremely versatile which makes them the perfect gift or giveaway throughout the holiday season. There are thousands of different options when it comes to choosing a reusable bag, but let's highlight a few of our best sellers that we think are perfect this time of year.
Cotton Grocery Bag with Bottle Holders – This cotton grocery bag is perfect for packing up food and snacks to bring with you to a party or gathering. There are 4 sewn-in bottle holders that make carrying bottles a breeze. Pack up your favorite bottles of wine and your favorite homemade recipe to take to your holiday party. The cotton material is heavy duty and built to travel with you.
Laminated Mini Gift Bag – This is an extremely popular bag, and for good reason! It's the perfect gift bag for holiday goodies. It's a classic gift bag style but with the ability to market your organization or brand perfectly. Customize it with your organizations branding and give your audience something they'll use over and over again!
Jumbo Insulated Recycled Grocery Bag – Insulated grocery bags are incredibly useful during the holidays when we are bringing hot dishes over to friends and family for parties and gatherings. Creating a customized insulated bag that your audience can use during their most fun and joyous events is a great way to connect!
There are tons of options when it comes to reusable grocery bags, and Bulletin Bag has you covered with a wide variety of materials, styles, customization abilities, and more. Shop around and find your perfect bag today! Check out Bulletin Bottle and Bulletin Basics for even more promotional products this holiday season.