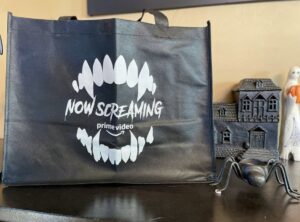 The breeze is starting to get cooler, the leaves on the trees are starting to change, and up here in Maine, Fall is in the air! October is right around the corner and before we know it, we'll be bundling up with our winter clothes! There's lots to love about this time of year and included in that is Halloween! Not only is this holiday super fun, but it's a great opportunity for promotional products like reusable bags!
Do you work in a school and have fun Halloween festivities on the horizon for students? Custom Halloween merch is a great way to create school spirit! Do you work in an office and want to kick off Q4 on a good note before the holiday season starts? Promotional products like reusable bags are a great way to do just that. Do you own a retail shop and want to offer your customers something new and unique? You get the idea!
Let's check out some of our favorite reusable bags that we think are perfect for Halloween! (and the Fall season in general!)
Six Pack Cooler Bag – This insulated lunch tote is about the size of a six pack, which means it's perfect for carrying lunch to school, a few drinks to a friend's house, or snacks while on the go! We love this bag for Halloween because it comes in tons of fun colors, including black, purple, and 2 different shades of orange!
Full Sized Recycled Cotton Market Bag – This bag is great for carrying groceries at the market, but if you think outside the box, you'll also notice that it's great for …carrying candy! The ultimate trick-or-treats companion to carry all goodies from Halloween! It has sturdy 22" handles for over-the-should carrying and is made from recycled cotton. It has a large imprint area on the front and offers full color printing, which means your custom Halloween marketing design will really shine!
Standard Reusable Gift Bag– This gift-size bag is a classic that's perfect for carrying candy, filling with Halloween treats and gifts, and is a great canvas for your logo or design! It comes in bright colors that are great for creating something unique, and its size makes it easy to pass out to students, staff, employees, and customers! Plus, this bag offers glow-in-the-dark ink …hello Halloween!
These are only a few of the many bag options we have that are great for this time of year. Be sure to check out all of bag categories on our site! We have them organization by many facets, so click around and make sure to reach out to our team if you have any questions!