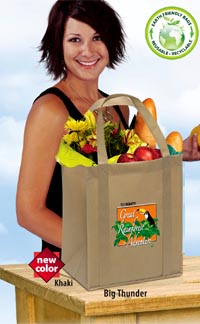 Let's face it: times are tough. You need to spend marketing dollars to get sales, but you need sales to fund your marketing budget.  For a relatively inexpensive promotion with maximum staying-power, look to reusable bags. Custom logoed reusable bags are the perfect promotional vehicle for our tight economy.
For starters, you can't beat the targeted marketing. The person buying, receiving, and using the bag is usually the person who does the majority of the shopping and therefore the person makes the majority of the household buying decisions.  From which bank, a mortgage broker or insurance company the family uses; to which hair salon they frequent, to which brands and stores they are loyal to – this is a powerful demographic! Reusable bag advertising allows you to put your company name and message directly in the hands of the person of this person — and keep it there until they are ready to do business with you.
Reusable bags are used an average of one time a week and likely remain visible in the car and in the home when not in use.  Most people will keep–and use–the bag for 5 years or more. What other imprinted promotional product can consistently claim that longevity? Added bonus: using a reusable bag saves an average of 12-16 plastic carryout bags per week.
Reusable bags are durable, physical and personal – resulting in better name retention than other advertising mediums.
Custom imprinted reusable bags generate customer goodwill and loyalty.  Reusable bag promotions demonstrate your commitment to the environment, thereby connecting with your consumers in a meaningful way.
Take this one step further by implementing a reusable bag incentive program — The Progressive Grocer has some great ideas for retailers. Create a standalone piece that explains the incentive for bringing reusable bags to your store (like a per-bag discount of $.10). Of course, you'd love for the customer to carry YOUR reusable bags with your logos. In this case, perhaps offer a higher incentive with the purchase your customized tote, such as a $5.00 in-store coupon.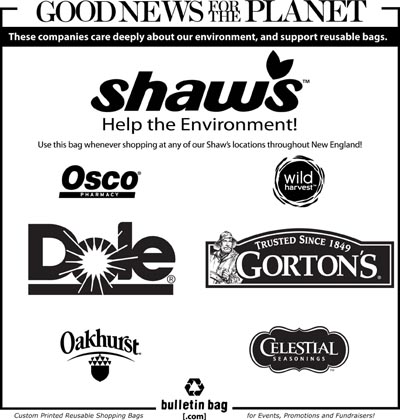 Be part of an important social movement – and take advantage of the PR 'buzz' that will follow.