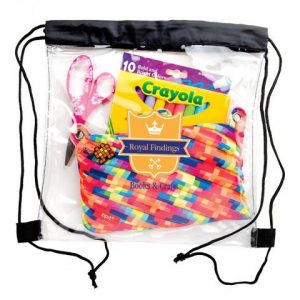 When you're in a rush, you don't have time to rummage through your bag to find what you need. This is why you need a clear tote bag. Having a clear bag helps you to easily see everything you need. They are also useful when you are going somewhere that has security. It is easier for them to quickly make sure everything you have is safe and approved for events.
We also love having a clear tote bag during day trips. It makes your trip more enjoyable when you're not scrambling to find all the things you need. We love our Clear Tote Bag for any of these needs.
Our Clear Tote Bag is perfect when you have a lot of things but still want to remain organized. The clear PVC material is perfect for beach days or sporting events. We love that this bag is big enough to hold everything we might need to make the day a hit. While this bag won't be able to carry your heavy loads, its perfect for days when you have a lot of walking and want to make carrying things easier.
Don't let the clear material fool you either. This bag is perfect for your logo or design to be displayed. You can perfectly display your logo in the center of this tote bag. This bag also meets the requirements for professional sporting events depending on the imprint requirements for that sport.
If a tote bag is too big for your needs, then there's always smaller options. If you don't need all that space, try our Stadium Drawstring Backpack. This drawstring backpack is perfect if you need a clear tote bag, but you want something smaller and more portable for the day. The full color printing option is great to help your logo or design stand out. Like our Clear Tote Bag make sure that the imprint meets the requirements for professional sporting events.
It's clear to us that a clear tote bag is an amazing option! They're great for sporting events or projects where you need to see everything quickly. They're easy to clean and easy to use. We love these bags for busy summer days and summer nights!