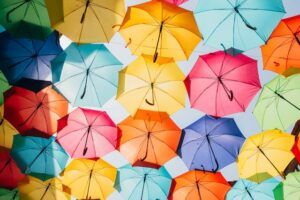 Springtime is (almost) here and with that comes April showers! For our team here in Maine, we'll happily take the April showers after many months of cold weather and snow! As we approach springtime and even summer, you might be thinking about what kinds of promotional products you'll want to create for your audience. Don't underestimate or overlook custom umbrellas! Especially this time of year! With increased rain and more people spending time outside as the weather gets warmer, more and more people will be reaching for an umbrella. And happy that they have one in the car or by the front door!
When it comes to picking out the right umbrella, the most important factor is size. How large do you want the umbrella to be? Once you figure that out, it's all about designing your logo, message, or picture that you want on there. Custom umbrellas are a great example of a truly practical promotional item. In other words, something that your audience will actually use and be grateful they have. Plus, these items are perfect for pairing with other promotional products to create a line of items or a kit of your favorites for your audience. Custom apparel like a zip up hoodie, sunglasses, a reusable water bottle, or a backpack for the summer are all great options that would complement it perfect! Bonus points if the umbrella fits into the backpacks side water bottle pocket!
We have a few different kinds of custom umbrellas on our site that are perfect for branding. They come in a range of different sizes and colors, so you'll easily find the right one to bring your vision to life! We love these because they're an affordable and unique promotional product regardless of your audience's demographic. Everyone wants to stay dry on a rainy day! They're an easy item for employee gifts, product launches for a retail brand, client gifts, and so much more.
Our team of experts is here to help answer any questions you have about our products, the process, or promotional products as a whole. We can source brands like ShredRain and more, so reach out to today with your questions!