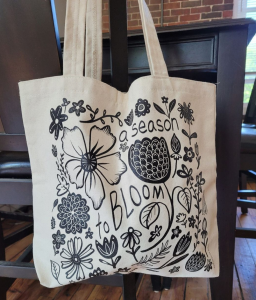 Cotton is an extremely popular material for reusable bags (and other products) on the market. From towels to bedding to clothes and more, cotton has become a staple in many households. It's known as a natural and
sustainable alternative to plastic and other not-so-eco-friendly materials on the market, but many questions come up about organic versus conventional cotton. Is organic cotton more sustainable? It is higher quality? At the end of the day …does it really matter?
The main difference between organic and conventional cotton has to do with the growing process. Organic cotton is grown without toxic substances and pesticides, making it better for the environment, the soil quality, and the cotton itself. Purchasing certified organic cotton also means that you're able to verify that it was grown in a sustainable environment. The process of growing organic cotton produces around 46% less CO2
emissions and uses 91% less water than conventional cotton. So, if sustainability is a priority for you while making your purchasing decision, then organic cotton may be worth it for you.
Aside from the environmental factor, many people prefer organic cotton for health and sensitivity reasons. Organic cotton is usually not bleached like conventional cotton normally is. You'll notice that organic cotton has a slightly off-white coloring for this reason. It is pesticide-free, bleach-free, and hypoallergic. This makes it a great option for people with sensitive skin! Many people vouch for organic cotton saying you can feel the difference from normal cotton …but you'll have to try it for yourself!
At Bulletin Brands we have great bag options that are made with organic cotton (and normal cotton too if you're not looking to switch over to organic quite yet!)
Our Organic Cotton Flat Tote is a great option for those looking to invest in an organically made bag. It's an affordable bag that's extremely versatile and has the perfect imprint area for your logo or design. Another option we offer is the Wide Gusset Organic Grocery Tote. This bag is made of organic cotton as well, but unlike the flat tote this bag has large 7-inch gussets for extra room and carrying capacity. This bag even has eco-friendly ink options available!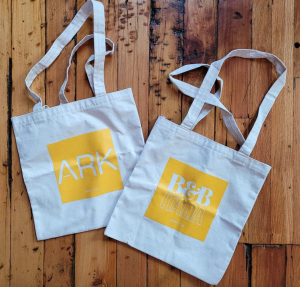 We even have a bag that's made with organic cotton right here in the USA! Check out our USA Made Organic Cotton Bag. This bag is the perfect option if sustainability is your top priority. It is Union Made here in the States, and you can even choose from self-material handles (made from the same fabric as the bag), or customize the handles with your choice of polyweb colors! The colored handles and a large imprint area for your design make it a great option for so many occasions.
No matter what your priorities are while deciding on a bag, we are here to help you find one that aligns perfectly. Whether you're looking for a cotton bag, an organically made bag, a bag made here in the USA, or just one to meet your budget …we have plenty of options for you! Contact our team today with any questions you have!