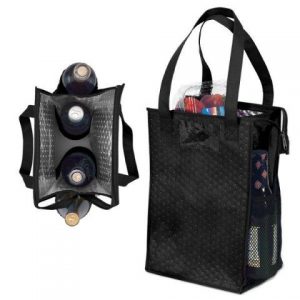 Testing products is one of our favorite things. We handpick all of our items on our website so that we can make sure you have the best options possible. We've been trying out the Snack Tote and the results are in!
We found that our Snack Tote is versatile and stylish. This insulated bag is the perfect size to hold your lunch, or to bring to the grocery store with you. The inside of the bag is spacious and has two bottle holders for easy organization.
Our staffer Mary tried out this bag and she loved it! Mary says that "this bag is perfect for holding your daily lunches. I found that I still had tons of space to add extra snacks or drinks. It is also very helpful for quick trips to the grocery store. It was spacious enough to hold all of the frozen foods I picked up."
The two side pockets on the bag are so helpful and functional. One side features a mesh pocket and the other a nonwoven polypropylene pocket. These pockets are perfect for holding a reusable water bottle or any else you might want quick access to.
The front of this Snack Tote also features a clear pocket for you to display a business card or name tag holder. This is especially handy when you must leave your favorite lunch in the fridge unguarded. Being able to display your name keeps it away from grabbing hands and adds a personal touch that is sleek and professional.
We also love the color options that this bag has. The vibrant color of the bag helps make it stand out against a crowd. It also helps your logo or design stick out and get noticed. The size of the bag is also perfect and not too big or small. Mary says that she "didn't realize how spacious this bag is. I thought it was going to be hard to fit everything, but it's the opposite."
We think this Snack Tote is amazing and perfect for all of our needs. It is the perfect size for our daily lunches, or weekly grocery trips. This insulated bag is cute and would look amazing by your side!