Here at Bulletin Bag, we hand select every single item that you see on our site. This means we take the time to research, order samples, personally test the bags, and more to see if it meets our high-quality standards. We are proud to offer you the bags that we do! We constantly stay updated on new product releases in the market, and we're so excited to highlight some of our new product offerings here! We've added over a dozen new products to our site, and we can't wait for you to check them out. Here are some of our favorites:
Trek Folding Backpack – this lightweight but sturdy packable backpack has been making the rounds at Bulletin Bag for several years! First given to Jennifer and Suzette as a giveaway at a conference, it quickly became a favorite for both of them! Their backpacks have traveled the world and are still going strong! That makes this bag perfect for the upcoming summer months. It's sleek and modern with all the classic features you need in a backpack. Dual mesh side pockets, wide zippered opening to the main compartment, and adjustable straps make it the perfect companion for the hiking trails. Plus, it's foldable! So cool!
rPET Square Lunch Cooler – We love this sustainable lunch tote! It's made from recycled materials and webbing made from plastic bottles. It's a modern looking small bag that's perfect for packing up lunch into the office or a long day on the go. We also have the rPET Lunch Cooler that is new to our site as well! It's perfect for people who are looking for something a bit more compact but with the same awesome features.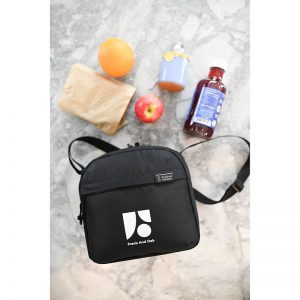 Zip Top Boat Tote – this cotton canvas bag has a zippered top which makes it so convenient for beach days and road trips. Keep all your goods secure and dry without worrying about them falling out! We love the colors this comes in and the secure handles that keep it comfortable when carrying.
rPET Modern Toiletry Bag – this is the perfect travel bag for keeping all of your essentials in one place. It's made from recycled materials and webbing made from plastic bottles, so it's a great option for people looking to shop sustainably. Keep your toiletries organized while traveling for work or vacation!
These are just a few of the many new products we've added to our site! We hope you love them as much as we do. Feel free to reach out to our team with any questions you may have about new products (or existing products) and enjoy browsing around the site!