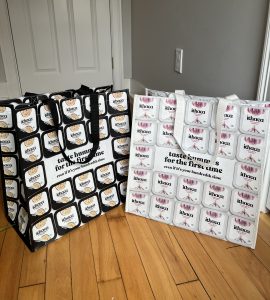 If you're reading this and still think that using custom reusable bags for your organization's messaging is a fad, think again. They're here to stay—evidenced by the number of plastic bag bans and ordinances that have been passed in municipalities all over the United States. Or you may be thinking that custom reusable bags aren't worth your time because everyone is doing them. Also not true. Although custom reusable bags are an extremely popular promotional product, they have been shown time and time again to be tremendously effective.
We've seen firsthand the shift in plastic bag consumption over the years here in Maine, where our Bulletin Bag team is headquartered. Cities and towns have passed regulations banning the use of single-use plastic bags, or at least adding a small fee to be paid if using them at grocery stores and more. The public opinion on plastic bags has also shifted as more and more people trend towards eco-friendly purchases and behaviors.
There has never been a better time to invest in custom reusable bags for your organization's branding. These bags are no longer an option, but a necessity in many areas. Creating unique, eye-catching bags that your audience can use regularly is an extremely effective way of marketing your message. Not to mention, you then align yourself with sustainable values that a lot of people appreciate. Creating custom reusable bags doesn't have to be boring! There are so many ways to get creative and create something that stands out from the crowd. We have fully customizable bags, insulated bags for summer, wine totes, backpacks, gym bags …you name it!
So if you're considering custom reusable bags for a fundraiser, promotion—or better yet, as a permanent fixture in your business—it's time to do it! Don't let the idea of a saturated market deter you from putting your own twist on a reusable bag. People use them every single day, and it's time to get in on the fun! Browse our website to see all the different bag styles we have, and start thinking of all the fun ways you can make it your own!