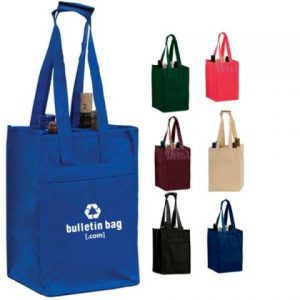 Summer is a time to sit back and relax. The best way to do that could be with a nice glass of wine or sparkling juice. Giving a bottle of wine is a great gift that is classier than normal. We love custom wine bags that are made specifically to carry your best bottles.
If you're interested in buying these specialty bags, then we are here to help. We have several options for wine bags, all that will fit different needs. You might think that custom wine bags come in one shape and style, but you would be wrong! Follow along down below as we show you how great these bags can be.
Wine bags are a great item to gift to clients or sell in stores. Having custom wine bags to sell at your winery is a great way to add something extra. You can include wine bags as a gift with purchase or a product to be sold separately. Either way these bags with put a smile on people's faces!
If you need a simple bag for smaller events or as an individual thank you, then try our USA Made Colored Cotton Single Bottle Bag. This USA made bag is perfect for carrying that bottle of wine you want to gift. The colored cotton comes in so many colors so you can find the perfect color to get your message across.
When you need something that can do double duty, try our Two Bottle Wine Bag. This bag is great and convenient to use. It can hold two standard bottle sizes so it's perfect for events or projects. We love the two handles which makes carrying this bag easier. The full color printing option is great when you want to add some extra emphasis on your company's brand or design.
Finally, when you have a big event planned and want to leave that lasting impression, we suggest our Four Bottle Wine Bag. This bag is big enough to fit four standard size bottles, while the long handles make it easy to carry. The polyboard insert and Velcro closure only help this bag be sturdy and secure. These bags are perfect for wine, but also great for holding soda bottles for all the big parties in your future!
if you need to bring a bottle of wine, soda, or any other big bottle, then wine bags are a great way to tote them around. They're the perfect size for any standard size bottles. We love these bags for any project or event when you want a bag more geared to specific needs or wants.