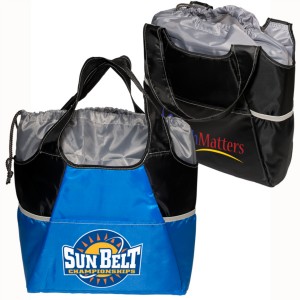 Insulated bags. Even if you're not a "reusable bag person," you likely have at least a few floating around somewhere. Lunch bags, soft-sided coolers, wine totes—these are all insulated and meant to keep the contents cold (or warm) for extended periods of time.
What if you don't need to tote large amounts of food, like when you go grocery shopping, but even your biggest lunch bag is just too small? Our insulated tote bags fill that gray area, and with several styles available, you'll find the perfect one for your branding!
Our newest offering in this category is the Insulated Drawstring Tote. We have to be honest—this bag has gotten mixed reviews from our staff testers. One hated it, while the other continues to love this bag. Seem fishy? Nope! Bag tastes ultimately boil down to personal preference and application. Case in point:
Jennifer tested this bag out right when we got it in. She used it to transport cold foods for a beach picnic. This bag does not have a gusset on all three sides (gussets are what makes a bag's rectangular shape), and she found the envelope-style of the bag a bit cumbersome. In fairness to the bag, it was probably a little too small for her needs, as she had three kids to pack for. Size aside, she was able to comfortably put juice boxes, apples, yogurt, and sandwiches—in triplicate—in the bag with room left for Blue Ice. For her, though, the lack of rigid shape makes packing a little awkward, and there wasn't a great place to put the sandwiches so they wouldn't get smooshed.
Suzette, on the other hand, loves this bag. She has used it to transport primarily rigid containers—six packs of soda and beer—as opposed to smaller, misshapen items. And maybe that's the difference with insulated tote bags like this—the bag's usability is partially determined by what you are toting. Suzette loves that even though she places heavy items inside, it's durable and strong, and she feels it's the perfect size for her needs.
The drawstring closure is awesome—both testers can agree with that. It allows the bag to be filled more than a traditional zip-top insulated bag, without compromising the integrity of the insulation.
If this bag isn't for you (and clearly, it's not for everyone!), browse through our insulated tote bags to find the style that IS right for your needs, branding, and budget!