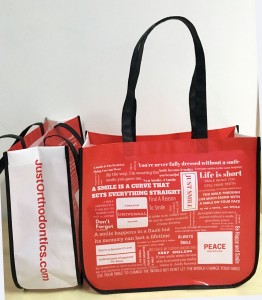 It used to be that the iconic Luluemon bags were exclusive to the brand. But, manifesto designs aren't just for Lululemon bags anymore! Do you have a lot to say? Want to shout and whisper at the same time? Designing custom Lululemon bags with your organizations messaging as a manifesto could be the perfect option!
Our custom Lululemon bags have grown exponentially in popularity over the past few years, and the super-creative ways our clients promote their organizations with these bags has become inspiring!
Make no mistake: these bags aren't solely for manifestos, or word cloud-type layouts. From one color to stunning photography, two colors to vibrant artwork, our clients' creativity shows in every bag.
Your custom Lululemon bag's nod to the store may be present only in the size and rounded corner design. Perhaps the similarities end there. Since you can choose the thread color, trim color, handle color, size, and shape, your project's end result very well may be nothing like the Luluemon bags.
And that's just fine! The ultimate goal with a project like this is to create a unique bag that encompasses your organization's culture and messaging.
BUT. We can't stress this enough. These custom laminated bags are difficult to make and you MUST choose a reputable company (like us!) that has lots of experience in creating them. You have to respect the process and allow for as much lead time as possible. Companies who tell you they can produce these bags in under 60 days are either going to deliver you a sub-standard product, or—more likely—leave you in the lurch while your in hands date comes and goes.
Custom Lululemon bags with manifesto art are super cool, and you can have this same look customized with your messaging. Or not. It's your bag! As long as you can allow about 90 days to design and produce them, and can have at least 3,000 bags delivered, we can't wait to make your design come to life!