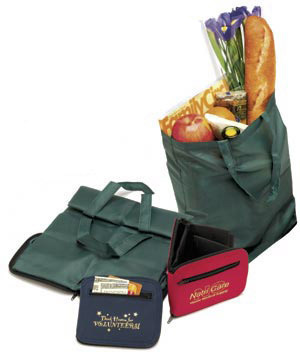 For these reviews, we pick two of our Bulletin Bag reusable bags, have our staff members put them through the wringer, and comment on the outcomes here (and encourage our clients to do the same!). This week, we've chosen two inexpensive, nylon folding grocery bags: Slim Zip Grocery Bag and Clip and Go Shopper.
We love nylon fold up grocery bags because they are strong, durable, and easy to store. Often times, folding bags can be over a client's budget, but these two bags are surprisingly affordable. Nylon folding bags should be hand washed in warm soapy water and hung to dry—both inside out and right side out–to ensure all the moisture is gone on the inside.
The Slim Zip Grocery Bag is one-piece construction that is a handy 5" x 4" pouch when folded into itself. The pouch includes a small zippered pouch for money, coupons, or frequent shopper cards. We like the unique way this folding bag tucks into the bottom of the bag, which then forms the pouch–and also creates a sturdy gusset when opened. The pouch of this bag is vinyl, but the bag itself is nylon. We also like the durability, considering the price point. This is by far our least expensive nylon folding bag, however there are a few limitations to consider when choosing the Slim Zip Grocery Bag:
On this bag logos can be printed on the pouch only.  We are currently unable to print on the side of the bag on this item.
Since the pouch imprint area is rather small (maximum print area is 2-1/2"w x 1-1/4"h) simple logos with bold designs work best and text should be kept to a minimum.
This bag is printed using a foil hotstamp printing method so you can only print in white, silver, or gold.
This bag is a bit smaller than some of our other bags and measures approximately 13"w x 14"h x 3-1/2" when open.
There are only two color options for this item:  hunter green bag (navy pouch) or black bag (red pouch).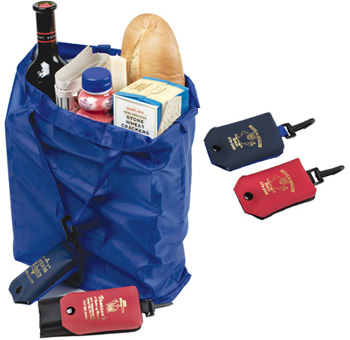 The Clip and Go Shopper folds into its own snap pouch that features a clip for easy toting. We like that it's so handy to clip onto a purse or even a shopping cart, and it's a great size for quick errands. It's worth noting that the Clip and Go Shopper is two-piece construction, so the bag is NOT attached to the pouch. This folding grocery bag has the following limitations:
Printing only available on the pouch.
Imprint area is limited to 1-1/2"w x 2"h.
Imprint colors limited to white, silver or gold only.
This bag is a bit smaller than some of our other bags, measuring approximately 12"w x 14"h x 3"d.
Only two color options:  royal blue bag (navy pouch) or black bag (red pouch).
The Slim Zip Grocery Bag and the Clip and Go Shopper are both very popular fold up grocery bags because of the low price point and good quality, however if they are too limiting, we are happy to recommend a different bag.