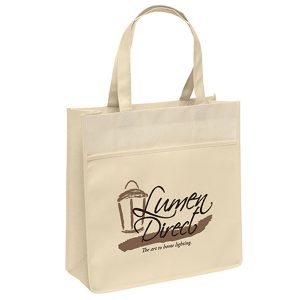 Last month we added two faux cotton tote bags to our product lineup: the Faux Cotton Nonwoven Shopper and Faux Cotton Nonwoven Square Tote. These bags are at once familiar and completely unexpected. Here's why.
Familiar? Yes! These custom totes look like cotton but in reality, they're nonwoven polypropylene—the same material you find in bestsellers like our Big Thunder Grocery Tote and Medium Nonwoven Grocery Bag. Not only that, but it's laminated! So you have the durability of nonwoven with smooth lamination that makes for easy spray-and-wipe cleaning! 
Why are they unexpected? Look at the photos. Do they look like our other nonwoven bags? Not at all! They're colored and constructed to mimic the appearance of cotton! This is super awesome because a cotton background looks awesome with virtually any logo. The problem is, not everyone can afford cotton totes. With these bags, you can have the luxe appearance of cotton without the price tag!
Another special think about these bags is that they're constructed with generous front pockets, handy for shopping lists, pens, conference agendas, magazines…you name it! It's a nice detail that's absent in many nonwoven bags on the market today.
If your project calls for a durable bag with a unique look, and your budget is limited, we recommend that you check out these new faux cotton tote bags. They're definitely not bags you are used to seeing! With a range of printing options from spot color to full color, and even a sparkle imprint option, your messaging will look great!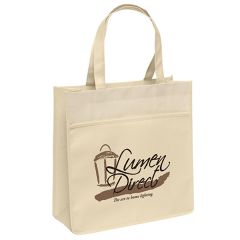 Shop Now! Faux Cotton Nonwoven Square Tote
Item #:
BAB39LPNAS1313
Price Range:
$1.71 – $2.22Minimum 150 pcs.
Includes one color logo.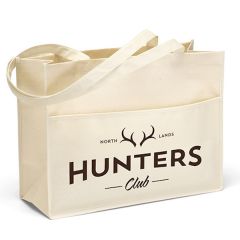 Shop Now! Faux Cotton Nonwoven Shopper
Item #:
BAB39LPNAS1612
Price Range:
$1.80 – $2.34Minimum 150 pcs.
Includes one color logo.