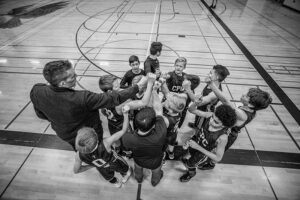 With the school year starting up again and kids heading back to class, a new sports season is here as well! Fall sports like soccer, volleyball, football and so much more are starting off their seasons across the country. Whether you're a coach, a player, a parent, or a fan, everyone knows how important team merch is for morale! Arguably one of the most important items for the players are the team bags!
Finding the right custom bags for the players and staff depends on the sport. If you're playing soccer, for example, you'll need a bag that can fit your cleats, your water bottle, your jersey, shin guards, and all the things you'll need for practice or a game. For volleyball, you'll need a bag that fit knee pads, sneakers, water bottle, etc. You get the picture!
Depending on what the season has in store, you may need to decide between a duffle bag and a backpack. Backpacks may be nice if you have a lot of tournaments in your season's schedule, as they're easier to take on the go while traveling. Where duffel bags may be more helpful if you have a lot of gear. Lucky for you, we have just about every style of bag you can think of …and we're here to help you find the perfect one for your team! Let's talk about some of our favorites:
Sports Duffel – this duffel bag is a great option for fall sports because it has a front slash pocket for small items like headphones or gum, in addition to dual mesh water bottle pockets. This extra storage on the front of the bag frees up a lot more room in the main compartment for clothes and gear. It has an adjustable shoulder strap for comfortable carrying and top grab handles for moving on the go. Plus, it has a perfect canvas on the front for your team's logo!
25L Dry Bag Backpack – this bag is constructed with heavyweight PVC and watertight seams, making it a perfect bag for swimmers! You don't have to worry about its contents getting wet by the pool or in the locker room. Its sturdy and heavy-duty material make it perfect for any sport though. Simply stow your gear and then roll down the top of the backpack and buckle the ends together!
USA Made Canvas Duffel with Branded Lining – this duffel bag is perfect for sports like cheerleading or gymnastics! This bag is completely customizable, which means you customize every color, from canvas to zipper to straps! You have complete control over the look of this bag! We love that it's USA made as well. Keep your branding subtle by integrating it into the inside of the bag instead of the outside.
These are only a few of the many bag options we have that would be perfect for team sports all year round. Team bags are a great way to cultivate a unified team and fan base! Plus it helps all players and staff keep everything they need for the season all in one place. Reach out to our team today with any questions!