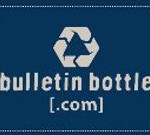 Our custom water bottle division, Bulletin Bottle [.com], is all new! We've been working hard over the past six months to redesign it, and we hope we've made it easier to navigate.
Here are five things (out of a ton!) that we love about the new site (if you've spent any time at Bulletin Bag [.com] in the past year, you'll notice some similarities!):
Robust water bottle search. Quickly get to the perfect water bottle for your needs by selecting your preferred material, capacity, and minimum quantity.
Client portfolio. Want to see what other clients have done with their projects? Our new client portfolio lets you drill down by material, color, industry, or product!
New product pages. Detailed pictures and information on every water bottle in an easier to read format!
Plastics news and water bottle blog. Looking for info on plastics reduction? Want to know what kids are doing to help the environment? Finally, a more organized way to get at the information you need!
Client reviews. Do you love your water bottles? Client reviews are an easy-peasy way to tell others! Just go to the product page for your bottle and click on "write an online review." Help others find the perfect bottle and learn more about your project!
So, what do YOU think of the all-new Bulletin Bottle [.com]? Let us know what you like, don't like, or want to see in the future. We're here to help you!