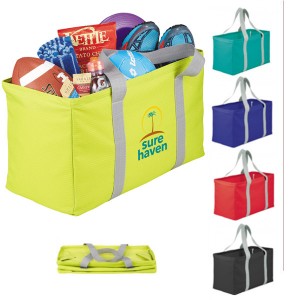 We mean it when we say we listen to our clients. If you want something that we don't offer, we try to find it. If enough people ask, we make it a permanent fixture on our site! Our all new custom utility tote is one of those great additions!
Our Large Utility Tote is all business. It will take your load from the car to wherever you are heading—vacation, beach, sports practice, you name it. Don't worry, the spacious compartment can handle all your gear, because its wire rim keeps the tote's shape and adds sturdiness. The 14" handle drop ensure you have a good grip on your stuff.
Choose from five great colors, all with a subtle chevron design for extra style, and add your logo for an on-trend, high-value bag that will be appreciated and used over and over.
Sometimes, however we just think new bags are cool and useful, and we add them because we hope you'll like them too! That's why we also have added our Insulated Drawstring Tote and Yoga Duffel.
The Insulated Drawstring Tote folds flat, but is spacious when opened. Unlike other insulated bags that zip or Velcro shut, this one has a handy drawstring top—allowing for easy access to the bag's contents.
Our Yoga Duffel has all you need for class. It has pockets for water, towels, and other gear. Most important, it has a space for a rolled up yoga mat!
As always, if you are interested in a bag and you can't find it on our site, please ask! We likely can get it for you. Or, perhaps your need is one other clients also have, and we will find the best options and offer them to everyone!
Meanwhile, let us know what you think about our custom utility tote and other new bags!