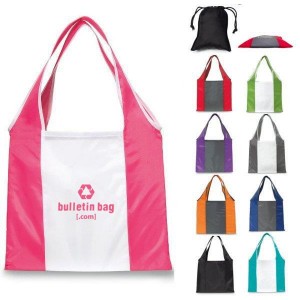 Collapsible shopping bags are everywhere. They're so convenient, and perfect for grab-n-go shopping trips. Clients love how compact they are. You can stash them virtually anywhere and they don't take up much space. In municipalities that have plastic bag bans and fees, this style is especially popular amongst both men and women!
When considering a collapsible shopping bag for your next marketing promotion or fundraiser, make sure to evaluate the material options against your intended use. Nonwoven polypropylene collapsible shopping bags are very budget friendly, but won't be as compact or durable as our Medium RuMe Bag (for example). Nylon and polyester bags are great for damp or wet items, while cotton folding bags can be more easily cleaned.
Don't let the name of the style fool you—this type of bag is great for more than shopping. Need proof? Here are eight real-life instances in which collapsible shopping bags can save the day:
Caught in the rain! Throw your wet coat and umbrella in a bag so your car doesn't get wet.
Diaper explosion. Quick…grab a bag and throw those clothes in there. Tie it up so you can make it home without gagging!
Playing hooky and heading to the beach? Pack up towels in collapsible bags and put wet gear in them when you leave.
It's picnic time! Pack in, pack out—anything you don't need to keep cold.
Ooh—a roadside farmers market! Grab a collapsible shopping bag out of your glove compartment and choose your veggies.
Time for a playdate! Get a bag and fill it up with toys to share.
Car in the shop (or maybe just a total disaster)? Use the collapsible shopping bags you have stashed in the trunk and clean that car out!
School's out! As you see your child stumbling out of the building with schoolwork, projects, and notices, snag a bag from your purse and navigate to your home without a paper trail behind you!
See? Collapsible shopping bags are SO very handy to have stashed around your home, car, and bag. Perhaps that's why they're one of our most popular styles. Recipients find them incredibly useful, and your messaging is seen every time they are whipped out and used!
When has a collapsible bag saved the day in your world? We'd love to hear about it!