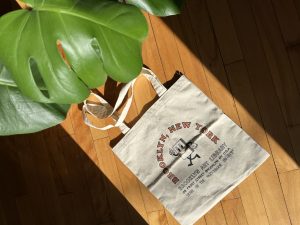 When choosing a reusable bag for your next project, there are a lot of things to consider. Depending on your vision and goals for your project you may be prioritizing different things like price, sustainability, printing capabilities, and more. If you are an organization that is prioritizing sustainability, you can still find something that is affordable and has lots of customization options! It is easy to get overwhelmed by all the options for bags these days, so we're going to share some easy ways you can prioritize sustainability when picking out your custom reusable bags. Let's get into it!
Opt for a natural material. When picking out what kind of bag you want for your project, it's a good rule of thumb to stick with the bags made of natural materials like cotton or hemp. Other materials like polypropylene are made of plastic, and while these bags are certainly better than single-use plastic bags and help reduce the amount of waste in our landfills, the natural material options are usually the most sustainable choice.
Consider USA made bags. Now that you've narrowed down your search by material, another way you can prioritize sustainability in your search is to consider bags that are made right here in the USA. For one, it significantly reduces emissions created by shipping and transporting products from around the world. Rather than ordering products that are produced and manufactured overseas, these USA made products are produced and shipped to you from much closer.
Check out organic materials. If you're considering a natural material for your custom reusable bags like cotton or cotton blend, consider organic cotton! Organic cotton is grown and produced without the use of synthetic pesticides, meaning that the land where this cotton is grown is kept healthier and the environment surrounding it is better off.
Overall, if you're considering custom reusable bags for your next project then you are already on the right track towards more sustainable choices. Reusable bags, regardless of their material or origin, help reduce the need for single-use plastics and hopefully result in less waste being generated and ending up in the landfills. These tips and swaps are meant as ideas to keep you thinking about how we can all make more informed decisions and become conscious consumers for our planet! Please reach out to our team with any questions you have about our materials, factories, or any of our processes.