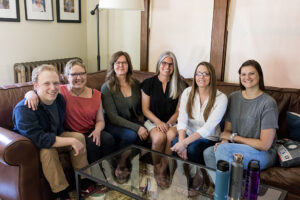 Each member of our team here at Bulletin Brands had $250 to donate to a special organization of their choosing, and we are highlighting their amazing picks here on the blog! We know that many people out there like to support charitable organizations during this time of year, so we hope this inspires you to consider these worthy causes for your holiday giving!
Suzette's Charity: South Portland Food Cupboard – an organization that is near and dear to our hearts, this food cupboard helps individuals and families in need in the Portland, ME area (our local community). Our team has been lucky enough to volunteer at this organization and have seen firsthand the amazing work they do and the impact they have for so many people. They've been feeding neighbors in need since 1997! Learn more here.
Jennifer's Charity: Mallory's Army Foundation – this important organization is working hard in the fight against bullying for children. Inspired by Mallory, a 12-year old who died by suicide because of bullying, their mission is to empower kids to be amazing people, to educate parents on technology and how their children use it, and to enhance communities and bring people together. They host workshop and community events, and overall are promoting kindness and togetherness. Learn more about Mallory's Army and their store here.
Ashley's Charity: Resilience – Resilience is an independent, not-for-profit organization based out of Chicago that is dedicated to the healing and empowerment of sexual assault survivors. They offer a range of extremely important services like non-judgement crisis intervention, medical and legal advocacy, and much more. All free of charge. Learn more about this organization and the services they offer here.
Ben's Charity: Planned Parenthood of Northern New England – This branch of Planned Parenthood is the largest reproductive health care and sexuality education provider and advocate in northern New England with health centers across Maine, New Hampshire and Vermont. They provide life-saving healthcare services to people in our local communities.
Jayme's Charity: Habitat for Humanity – this is a global nonprofit housing organization working in local communities across all 50 states in the U.S. and in approximately 70 countries. Habitat's vision is of a world where everyone has a decent place to live. They work on making homeownership more accessible in our local area and beyond!
Rebecca's Charity: Adoptive and Foster Families of Maine – this organization provides support services for adoptive and foster parents, and kinship providers. AFFM provides the training, guidance, knowledge, and resources needed to handle complex issues as families open their hearts and homes to children.
We are grateful for amazing organizations like these, and we hope you consider them as you plan your holiday giving. Happy Holidays from our team to yours!