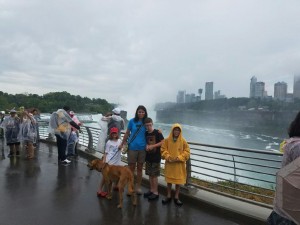 I recently traveled across the country with some of our staff's favorite bags in tow. Two weeks and 3000 miles later, I definitely have an opinion on our best custom shopping bags on our site. My needs may not match yours, but I can say without a doubt that these are my three favorite bags…and are worth their weight in gold. They don't weigh much, but, um…you get the idea! 
If you're looking for a folding bag, our Medium RuMe Bag was a major workhorse on my trip. I kept one in the car and one in my purse. Knowing that the bag would hold up to 50 pounds, I didn't have any worries while loading it up with water bottles, shoes, food, ceramic dishes, toys, or anything else I needed for the hotel stay. Since I always bring reusable bags to the store, it was so convenient to have one on hand for unexpected stops—even in towns where plastic bags are still the norm. We have lots of great custom folding bags on our site—and I regularly use several different ones—but there is only one RuMe and it's mine. You can't have it. Get your own.
Our Large Utility Tote was a custom shopping bag that I almost didn't bring. Since it's a recent addition to our site, however, I thought I'd grab it and possibly figure out a way to use it for something. Well OMG. I don't think I will ever leave home without it again! I thought the rigidity of this large rectangular bag would be a nuisance, but it was fantastic. I toted food, DVDs, books, dirty laundry, and more (no, not all at once….eeewww). The bag holds its shape thanks to a wire framework (that is only around the top, so it can fold flat), and turned out to be super handy to slide into the back of our SUV, or on the floor in the front seat, or up in our Yakima box. The handles are awesome. I had it overflowing and could still easily tote it on my shoulder.
The last bag on my list of best custom shopping bags from my road trip is our Classic Cinchpack. They aren't MY bags, but they are my kids' favorite. They each had one and stuffed it full of toys, stuffies, and books. It was large enough to fit what they wanted, but not so big that they had trouble carrying it around. When they were empty, I could stuff them inside my duffel or another bag. Someone (ok, me) spilled on one, so we (ok, I) rinsed it in the sink and hung it up to dry…good as new!
So, there you have it. My personal best custom shopping bags, as tested with three kids, one dog, one husband, two weeks, and 3000 miles.