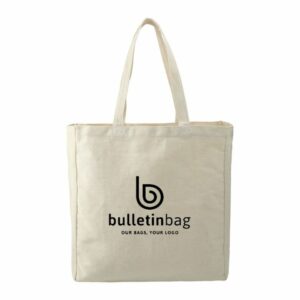 There are a lot of options out there when it comes to bag materials. From cotton to polypropylene and everything in between, it can be confusing to know what the right choice. On our site, we offer a wide range of materials because we understand that everyone's project is different. However, today we want to showcase some custom hemp bags because we know that many people are looking for a natural and sustainable material option for their custom bags!
We now offer 3 different hemp products on our site that are made of a natural hemp and cotton blend. The Hemp Cotton Flat Tote, Hemp Cotton Tote with Gussets, and the Hemp Cotton Accessory Bag. These natural hemp and cotton blend bags are great for a lot of reasons. The first being that they are high-quality and high functioning. This means that they are built to last and keep up with you whether you're using it to carry books to class or vegetables at the farmer's market! The flat tote is perfect for carrying your essentials, while the tote with gussets has more room for things like books or groceries. The accessory bag is ideal for traveling, keeping small toiletries, and a lot more!
The other reason these bags are a great option for promotional projects is because they are made from a natural, non-toxic, and sustainable material. Many people are gravitating towards non-toxic options and for good reason! These bags offer perfect options for health-conscious brands, eco-friendly brands, or just anyone that wants to prioritize sustainability!
The third reason we love these custom hemp bags …they offer full color printing! Elevate the natural material with full color logos and designs to stand out from the crowd. The natural color makes the perfect canvas for showcasing your unique design and brand's personality. These hemp bags are extremely versatile and are just waiting for your personal touch!
Reach out to our team today with any questions you have about these products or any other products you see on our site! If you have more questions about certain materials, check out our FAQ page here. We're standing by to help you find the perfect item for your next promotional project!