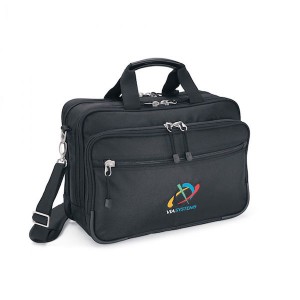 Ever-present portable electronics need a place to live while in transit, and that's why Bulletin Bag [.com] has added custom business bags to our custom bag lineup! These functional messenger bags, computer backpacks, and laptop bags are designed to make your branding pop while providing organization while on the go!
According to Pew Research Center, 78% of adults under 30 own a laptop or desktop computer, and 45% own a tablet…and don't even get us started on smartphones! So adding custom business bags to our lineup has been a long time coming. Luckily, these bags have functionality to accommodate even the most die-hard tech traveler or on-the-go businessperson. From tablet and computer sleeves to multi-function organizers to smartphone stash pockets—these bags are ready to take on anything!
Custom business bags are high-value items that are great for corporate employees and new hires, or for conference attendees and retail stores. Choose a bag with a colorful accent for an added compliment to your marketing efforts.
Buying computer bags in bulk doesn't mean you have to cut corners on durability. Ours are made from nylon, polyester, and cotton canvas and are constructed with business use in mind with features like padded grips, adjustable straps, and padded compartments. Our custom business bags can be printed or embroidered for the ultimate in classy presentation on higher-end bags. And if you're in a hurry? No problem! Most of them can be rushed at no charge!
Bags aren't only for shopping trips anymore, and Bulletin Bag [.com] recognizes this. If you are looking for any type of custom bag and can't find it, please let us know. And, if you have suggestions on future bag categories, we're all ears!