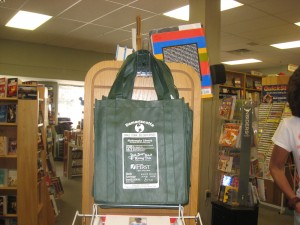 Are you thinking of buying bulk reusable shopping bags for your retail store? Whether you're looking for custom nonwoven grocery bags, cotton reusable bags, or full color custom reusable bags, we want to help you find the best fit for your brand!
Bulletin Bag [.com] features bulk reusable shopping bags that can be printed with your store's logo or messaging. Because bulk reusable shopping bags are available at virtually all price points, and are so widely used, they're the perfect compliment to a retailer's marketing efforts.
Consider selling or handing out multiple styles of reusable shopping bags in bulk that speak to the diversity of your customer base. By offering a few different types of reusable bags you can further build your brand personality, while appealing to a broader range of customers.
Before you decide which bulk reusable shopping bags to purchase, take your artwork's size and shape into consideration. A wide or round logo will look best on a bag with a large, square imprint area, while tall artwork will complement a narrow imprint area. If you're unsure, we can work with your needs, budget, and artwork to make bag suggestions that are sure to be a hit for your project!
We'd love to discuss a long-term bulk reusable shopping bag strategy that dovetails with your marketing objectives. Since 2008, we have helped stores with promotions, events, and sales that incorporate reusable bags in fun ways. Just let us know what we can do for you!