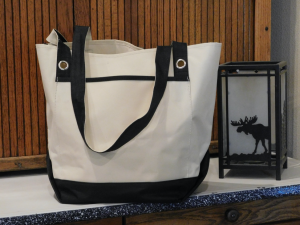 Not too big and not too small, our Polycanvas Boat Tote is the just-right size for day tripping–literally in a boat! To prove it, our staff tester, Deborah, took this bag out for a spin down by the river in her home state of beautiful Idaho.
Deborah says, "This is a wonderful, sturdy bag. The weight of the canvas feels really durable, but it's still flexible. I love the grommets, too! They not only add a little style, but are functional! I attached a water bottle to the bag on one side, and a travel dog bowl to the other using some carabiners, which increased the amount of stuff I could pack in the bag itself."
The size of this bag is great, and the large front pocket is super handy. I packed two nice beach towels in this bag AND still had room to add a bunch of accessories as well, the sunscreen, a few snacks, iPad…even a change of shorts/socks. All I had to do was pop it into the boat for a fun day down the river!
We agree with Deborah! The Polycanvas Boat Tote is a modern spin on a classic tote that's been around for ages. It's a very nice-looking bag that can handle everything from an overnight stay with a friend to bringing home groceries from the store. It can be printed in multiple spot colors or with full color printing to make branding pop.
Deborah's final thoughts? "This tote bag is versatile, strong, and good looking to boot! I love the material—it's different from cotton canvas but still feels rugged. Anyone would be proud to carry this bag with a company's logo on it."