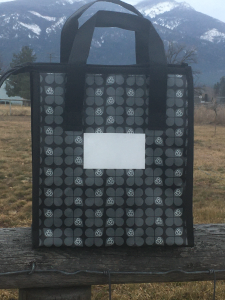 If you're looking for a small insulated tote bag, the Laminated Lunch Bag might be just the one for you! One of our staff testers, Deborah, recently took this bag out for an extended spin and was pleasantly surprised by it.
Deborah took this bag on her road trip home to Montana for the 2019 holiday season and she says "This is a really handy bag to have around! From the obvious use of taking lunch to work/school, to an all-around good bag to keep in the car just in case, I took this bag with me on a car trip this year and was able to pack just the right stuff for the road. I had cold water, a few small and special food items that needed to stay cool, and a place for some napkins in the outside pocket. And I had room to spare because once I opened my snack, I slid it into the handy outer mesh pocket for easy access while driving!"
She goes on to add, "The size of this small insulated tote is deceiving. It's bigger than you'd expect from a lunch bag and allows for a variety of different sized containers—plus it's insulated! With a small ice pack, it kept my food cool from morning until my stomach told me it was lunchtime! If you tote this bag to work and share a lunchroom refrigerator, there's a place to write your name prominently on the side of the bag, too!"
Laminated bags, in general, are some of Bulletin Bag's best sellers. They are lightweight, easy to wipe clean, and durable. All of that holds true for this laminated lunch tote as well!
The larger-than-lunch size combined with nice touches (outer pockets, name block, insulation) at a great price point makes the Laminated Lunch Bag a multitasker suited for lunch, road trips, picnicking, and more!