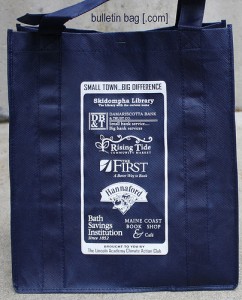 Every week we pick two of our reusable bags and have our staff members put them through the wringer. We'll comment on the outcomes here (and encourage our clients to do the same!). This week, we've chosen our best-selling Little Thunder Grocery Tote and Big Thunder Grocery Tote .
We love the "Thunder Totes." They are by and large our most popular bags due to the quality of the material, durable design and budget-conscious price point. The Little Thunder Grocery Tote , (12"w x 13"h x 8"d), is smaller than the Big Thunder (13"w x 15"h x 10"d), but that's where the differences end.
The Little Thunder and Big Thunder are made from heavy-duty 100 GSM non-woven polypropylene. Most non-woven polypropylene reusable grocery bags will weigh between 70 and 100 GSM (the larger the number, the higher the density and durability). It's also worth noting that not all nonwoven polypropylene is the same. While GSM is a measure of density, it's not a measure of the quality of the polypropylene itself. The Big Thunder and Little Thunder totes use the highest quality, most consistent polypropylene we've seen.
Both Thunder Totes feature handles that wrap all the way to the bottom of the bag. This feature gives the bag more stability, and allows it to stand up on its own a bit better. The included bottom insert ensures a strong, stable base for heavy grocery items. The downside to the reinforced handles is that the logo has to fit between the handles, which constrain the imprint width. As a consequence, these totes are ideal for logos that are a bit taller than they are wide. Clients with wider, shorter logos might want to consider the Standard Grocery Bag 80 GSM or the Standard Grocery Bag 100 GSM, which have a different handle construction that allows for a wider imprint area.
Both bags can be stored flat when not in use, but they don't have some of the bells and whistles (like snaps, straps & pouches) of some of our folding bags. However, they are available in our most popular color options (Hunter Green, Black, White, Khaki, Royal Blue, Red, Lime, Orange and Navy).
There are some unique challenges to printing on non-woven polypropylene bags and the factory maintains very high standards for imprint quality on these grocery totes. Each bag is specially cured to improve the quality and integrity of the tote, and special inks are used for the best ink coverage possible. Simple, bold designs work best on nonwoven totes, and we recommend a minimum font size of 16 points on this material for the best quality imprint.
You are limited to standard imprint colors on the Little Thunder and Big Thunder Grocery Totes . These are the standard ink colors for these two bags: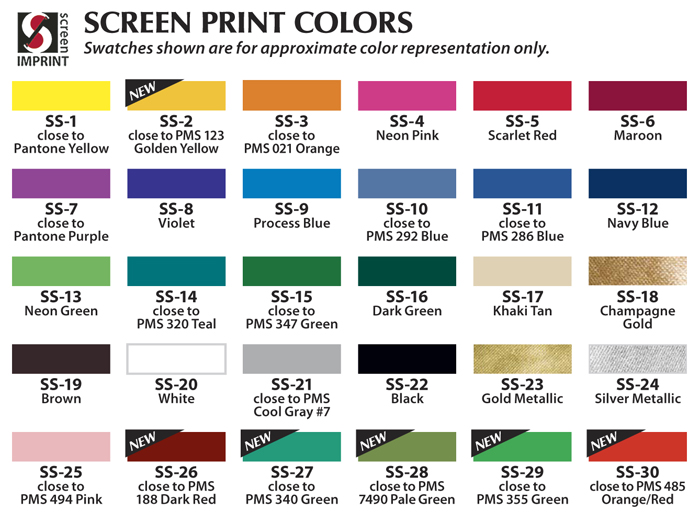 (PMS color matching not available on the Little Thunder Grocery Tote and Big Thunder Grocery Tote)
When printing in multiple colors on the Big Thunder and Little Thunder, there are two options:
1. Two-color Screenprinting:  Simple two color designs can be screenprinted on the bags, but the two colors cannot be touching. This is because heat flashing is required between colors, which may result in a slight 'shift' of colors (the shift is really only noticeable if the colors touch). We are happy to review your artwork to see if two-color screenprinting will work with your design.
2. Full Color Heat Transfer:  Transfers offer close registration, vivid colors, better coverage, and even 4-color process (photo image) capabilities. In this method, all the colors are laid at once (using CMYK color) onto a transfer sheet, which is then applied to the bag with heat. While PMS matching is not available, you can build the CMYK equivalent of your PMS color into the art file and your bags will print in your color. An underlayment is required with a full color heat transfer, but with good vector art it can be clear and only visible at close range, resembling a slight 'shadow' around the logo elements. With a non-vector jpg that includes a background color, the underlayment is typically white. The underlayment can be printed as a 'box' around your design, or in some cases it can be 'die cut' around your design.
Another big pro to these bags? They are recyclable at the end of their life (where #5 recyclables are collected) and are comprised of at least 20% post-industrial recycled waste. The factory puts these bags through rigorous safety testing as well.
Can you tell that we really like the Big Thunder Grocery Tote and Little Thunder Grocery Tote? There are so many reasons why they're a staff favorite! P.S. Our clients love them too!