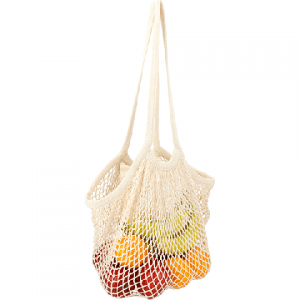 We know how popular reusable grocery bags are nowadays given the plastic-bag bans and consumers' trend towards more sustainable habits. These bags are all over the grocery stores and pretty much anywhere you go! So, what about reusable produce bags then? These seem to be less common in the grocery stores. A lot of places still offer single-use plastic produce bags, which are wasteful and hazardous to our health. This is a great opportunity for custom promotional produce bags that people can use to limit their plastic consumption while keeping their produce safe and fresh. Let's check out what we believe are the best reusable produce bags below!
First up we have the Mesh Produce Bag. This bag is budget-friendly while still maintaining high quality and sturdy material. It's breathable, micro-mesh material is perfect for carrying fruits and vegetables through the store and beyond. It features a drawstring closure with a sliding push fastener, so your produce stays secure while you're moving on the go. The weight tolerance on this bag is 22 pounds! In other words, this bag is sturdy! It also has a great middle panel for branding, making it the perfect promotional bag.
If you're looking for a reusable produce bag made with natural materials, then this Cotton Mesh Market Bag with Pocket is perfect. Not only is this bag cute and trendy, buy it's extremely functional. It's the perfect bag for carrying your fruits and vegetables while eliminating the plastic produce bags. It also features an interior zippered pocket to hold change or coupons …so convenient for grocery shopping!
We can't forget about the Bagito Mesh Produce Bulk Bag! This premium, name-brand produce bag is made from 100% rPET fabic. It's breathable and bacteria resistant, so it's perfect for product transportation and storage. It also features a snap to bundle together with other Bagito produce bags, making shopping easy! We love that all Bagito products are screen-printed in an eco-friendly manner with soy-based inks available.
Looking for the best reusable produce bag? We think this is great place to start. Check out our list of produce bags here. If produce-specific bags aren't what you're looking for, don't forget that cotton tote bags are great options for groceries. Shop all our cotton tote bags here.