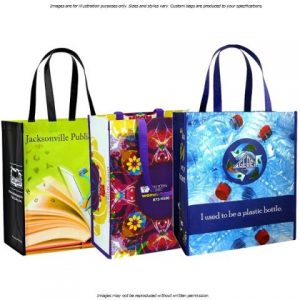 At Bulletin Bag, we have a multitude of bags, which means we also have a multitude of materials they come in. Bag materials are an important aspect of choosing the right fit for your next project. Before you think about an imprint, you need to think about the bag it's going to be on. Depending on your project, finding the perfect bag material can elevate your event, or leave it feeling lackluster.
Our four most popular bag materials are rPET, cotton, polyester, and non-woven polypropylene. Each material is different and has its own look and feel. We're going over these four bag materials and the advantages of each material.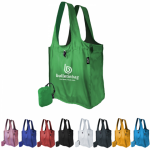 rPET
We put a lot of thought into being environmentally friendly and eco-conscious. We offer a wide selection of recycled material bags, and PET bags are one of them. We have recycled cotton, recycled polyester, and recycled PET. One of the best things about recycled materials is they can offer the same look and feel as our other bag materials.
One of our favorites is our Bagito Deluxe Grande bag. This bag is made from 100% post-consumer recycled plastics (rPET) which is lightweight and has great storage capabilities. It can hold everything you need and can be stored away without taking up space.
Cotton
This natural material is softer to the touch than our other materials and has a beautiful color. Cotton is an absorbent and lightweight fabric that looks great with a brand logo imprinted on it. These bags are great from everyday totes to pencil cases.
These bags look expensive and stylish, and our Cotton Tote with Button Closure is one of our favorite options. The natural material with wooden button closure makes this bag look so aesthetically pleasing and practical. We love taking this bag out shopping with us!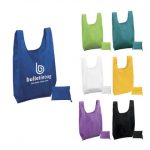 Polyester
Polyester is a synthetic material that is known for being abrasion resistant and wrinkle resistant while also being light and durable. Polyester is lightweight and easy to fold away. It dries quickly, which makes it the best bag material for any outdoor event. Bags like our T-Shirt Bag with Pocket are a perfect polyester bag! It folds into its own pocket bag so it's perfect for storing away, but when it folds out it can hold everything!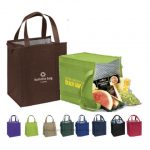 Non-Woven Polypropylene
Non-Woven Polypropylene is a flexible eco-friendly material that is durable and has a sturdy look and feel. Its moisture-resistant fabric also has strong insulation properties, and that's why you see it commonly as grocery bags.
A great option if you're looking for insulation is our Therm-O-Tote. This tote is multi-layered and has a zippered closure for great insulation power. It's the ultimate tote to take with you to the grocery store or farmer's market.