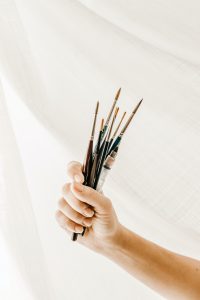 Did you know that August is American Artist Appreciation Month?! It is celebrated across the United States to honor the great artists that have contributed to our society throughout our history, and to also shed light on the artists of today. Art is an important part of culture, and it's a reflection of the human condition, emotions, and ambitions. It's a creative and meaningful way to express so much! There are a lot of different kinds of artists out there, from the full-time professionals to the first-time beginners, but each one should be celebrated and encouraged to put their art into the world! Custom bags help do just that.
Artists are constantly looking for new, creative ways to showcase their work and connect with their audience. Custom bags are an amazing way to both diversify an art portfolio and offer a more functional, versatile product to your clients. All while maintaining your unique brand and art style. Reusable bags are a new type of canvas to showcase paintings, photos, designs, or even pictures of any type of art medium you create. Let's take a look at some popular bags that are great for artists!
Custom Gift Bags – custom gift bags are a whole category of bags that are perfect for artists and creatives alike. We have a whole blog post outlining why these bags are a great option for those looking to expand their portfolio and highlight their unique artwork.You can read it here.
Customizable Book Bag – This bag is great for artwork because it offers full-bleed and full-color printing options on both sides, which means that your art can come to life exactly how you envision it on these bags! It's a durable bag with a zippered top and reinforced bottom. The best part? It's made right here in the USA, so you can feel good about supporting American jobs while promoting your brand and art.
USA Made Cotton Flat Tote – Another USA-made bag option! We love this bag for artists because of its trendy but classic design that acts as a perfect canvas for custom drawings and designs. It gets the job done beautifully!
Large Full Color Fold Up – This bag is made from ripstop nylon and comes in three sizes! They fold into a small pocket making it easy to take on the go, and is a unique bag to showcase your artwork!
These are only a few of the many custom bag options we have for creatives who are wanting to put their artwork on a reusable bag. There are so many ways to get creative with this! Depending on vision you have, our team can help you find the perfect material, size, and style for your bag. Reach out today!