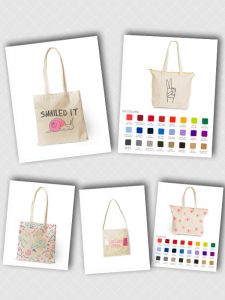 Did you know that in some industries, more than 97% of production is done overseas. We find a similar pattern in the custom bag industry. It can be faster and less expensive to crank bags out overseas than to keep the production here in the USA, and everyone loves lower prices. Plus, it can be hard (or impossible) to source certain raw materials in the USA. These factors have typically add up to a more expensive bag, but it's all the more reason why we're extra excited to offer FIVE new, budget-friendly tote bags made in the USA!
Our USA made bags are typically higher-quality than comparable bags made overseas (notice we said comparable…check sizes and cotton weights to make sure you're comparing apples to apples), and come with stories of the real-life people behind the bags (like our Tradewinds Custom Canvas Tote, which is made by people with disabilities).
While many of our clients who want USA-made bags know to expect to pay a premium, we also see that the made in USA "must-have" check-box is the first to go away when faced with budget limitations. But that's changing…starting now! You CAN check off the USA box and keep your budget intact! 
Our new lineup of USA-made cotton bags features three flat totes and two zippered totes. Full bleed is included in the price, as are the beautiful details that nearly make these bags too good to be true.
Flat totes are what we call bags that have no bottom or side gussets, and therefore no depth measurement. Our three new flat totes come in a small square size, a large square size, and a crossbody bag with a long strap meant to be worn messenger-style. All can be printed in full bleed for no additional charge, meaning your artwork can be printed seam to seam!
We're really pumped about our two new zipper totes. The handles extend down the sides for interest and durability. These bags, too, can be printed in full bleed. But the best? You can take your natural-colored bag, and choose from one of THIRTY fun zipper colors that compliment your artwork. And it's included in the low price! Choose from a smaller zipper tote, or a larger one.
With the addition of these new totes, we now have 13 USA-made reusable bags to choose from—and each one is as unique as your organization! Request a quote and see why they are our top-selling new bags of all time!