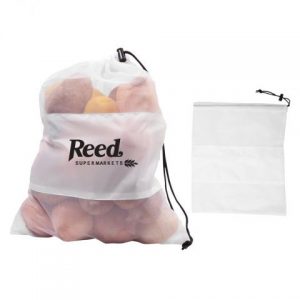 Plastic bag bans have become extremely common in most places, making reusable grocery bags a necessity for us! Reusable bags are an amazing step towards living sustainably, and another step we take is by using reusable produce bags as well! Single-use plastic bags are wasteful and for a lot of produce, they're unnecessary. Our Marketing Assistant, Ashley, tried out our Mesh Produce Bag for herself and found that they were extremely useful for a lower-waste grocery haul!

This produce bag is micro-mesh, meaning it's designed to be transparent and breathable! It features a drawstring closure and can hold up to 22 pounds! It's perfect for a lot of different kinds of produce. Ashley loved its size! It's large enough to hold big stalks of leafy greens like kale and romaine lettuce, while sturdy enough to hold bulk potatoes and onions. Having the breathable fabric is ideal for storing greens, herbs, mushrooms and more in the fridge. They stay fresh for longer when there's some air circulation, so this is great feature!
She loved that even though the bag is sturdy, it feels lightweight. So it's easy to fold up and keep in your reusable shopping bag for when you go to the store. The all-white fabric is also cute and functional! The printing options come in a variety of colors, so your logo is sure to pop on the white backdrop! It's a great imprint area right in the middle of the bag.
Ashley says that plastic product bags are extremely easy to swap out of your grocery shopping routine. One way to do this is to ask yourself if the produce item you're buying really needs a bag in the first place. Items like bananas don't always need a bag, as you won't be eating the outer skin! For other items that are easier to carry in a bag, this Mesh Produce Bag is the perfect substitute.
This Mesh Produce Bag is ideal for people who value sustainability and want to reduce waste on trips to the grocery store. Eliminating single-use plastics is a great goal to have for those of us wanting to live sustainably! Custom produce bags are perfect for grocery stores, health food shops, zero-waste shops, food brands, and more. Check them out today!