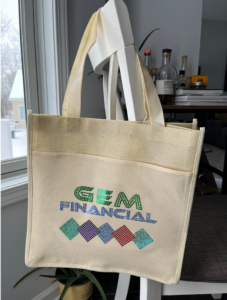 Do you feel like you've seen it all? Maybe feeling a little uninspired? If you're looking for something different to strike some inspiration and to set your project apart from the crowd, then we might have the thing for you! It's important to get creative when thinking about your promotional products, with the goal of producing something that your audience will get excited about. And that will broadcast your brand effectively to the world! Our team is here to help you create custom merchandise that will impress your audience and help you achieve your marketing goals. So this that said, we wanted to showcase a new and exciting imprint technique that is another great tool for creating unique custom bags: sparkle imprinting!
Sparkle imprinting is perfect for when you need uniquely branded bags to celebrate events, add prestige to your brand, or simply stand out from the crowd! The glossy reflective beads make your bag's artwork shine! Plus, it comes in more than 30 eye-catching colors so it's easy to customize to fit your brand's personality and project vision. It's offered on some of our non-woven and polyester bags, so let's check out some of the exact bags you can add this imprinting technique to!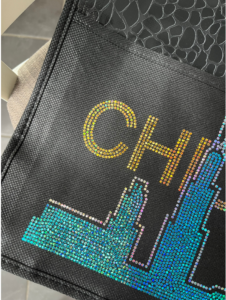 Standard Reusable Gift Bag – Elevate this classic gift bag with sparkle logos. Perfect for parties, thank-you gifts, and so much more. Between the bag colors and the sparkle colors, you'll be sure to find something beautiful!
Nonwoven Shopping Tote – Another great bag that comes in a range of bright colors to perfectly compliment a sparkle imprint! It's perfect for light loads and quick errands, and add some sparkles to grab everyone's attention!
Small Boutique Tote – This is a stylish bag on its own, so once you add sparkle imprinting it really puts it over the top! This adorable bag is comes in fun colors and is just waiting for your unique logo and design!
Ask our team today about all the bags that offer sparkle imprinting! We are ready to help you bring your vision to life and create something beautiful!
Include photos of color options from here and images of samples.