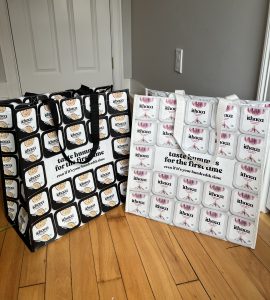 We've all seen the reusable grocery bags at the grocery stores and markets in our areas. They hang by the cash register, are in everyone's carts, and fill the farmer's markets stands. Reusable grocery bags are a great way to reduce single-use plastic regularly and are an easy switch from their plastic counterpart. One of our favorite things about these sustainable bags, are that they can be used for so much more than just groceries! Custom reusable bags like ours can be utilized for everything from grocery shopping to moving!
When picking out promotional products there's a lot to consider, including how often your audience will use said item! You of course want your custom merch to be seen by the most people at the most places. With reusable grocery bags, you know that it will get in front of a lot of different people. From the grocery store to the shopping mall, to school campuses and so much more, these bags are utilized for so much!
Take our Matte Laminated Grocery Bag for example. This is strong enough to hold your canned goods at the store, fashionable enough to carry clothing through the mall, and impactful enough to help promote your message with the world. Reusable grocery bags like this one can  have tremendous impact with how you engage with your audience and the world at large.
If you're looking for something to print on all sides, the Laminated RPET Grocery Tote is a great option. It's of course perfect for carrying groceries, but can be used for college book stores, festivals, and so much more. We love how perfect these bags are for promoting sustainability and can hold up when carrying heavy books or groceries!
Our Made in the USA Cotton Canvas Bag is another versatile grocery bag that can be so much more. We love the cotton canvas material on this bag …it's both durable and trendy! This is a great bag for daily errands as much as it is for carrying goods. It's always nice to have a tote bag for carrying your wallet, keys, reusable water bottle, and more.
Utilize reusable grocery bags for so much more than grocery shopping! Our team is standing by to help you pick out the perfect one for your project!