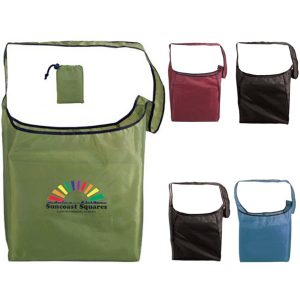 The PET Folding Sling Tote is the sister bag of our wildly popular PET Folding Carry All. Bags made from recycled materials are always in style, and this bag is made from recycled post-consumer PET, so it's lightweight, durable, and easy to fold up and store.
Our staff reviewer said, "This is my go to bag for a number or different things personally! When traveling, I will pack a couple inside of my suitcase or purse because they're so compact and feather light! Then I always have one to throw over my shoulder with some necessities and off I go ready to enjoy shopping, sightseeing, hiking, riding roller coasters or whatever other fun activity we have planned and need a bag that doesn't get in the way!"
She also uses hers for quick, pedestrian-friendly shopping trips because it can be carried in a pocket on the walk to the store. They're also great for gym clothes, sleepovers, or even a purse!
Sling totes and cross-body bags are also trendy with the college and university crowd as they're stylish, durable, and roomy enough for a book, water bottle, electronic device, and whatever else is needed. The design holds the bag up and makes it more convenient to tote.
It's worth noting that our staff tester is 6' tall, so she suggested that the strap could stand to be a little longer. We think it's a length that could appeal to the majority of users. But it is worth keeping in mind if your intended recipients happen to be taller! It's also important to point out that there are no interior pockets in this bag.
If you're looking for a bag made from recycled materials that's eye-catching for its color options and design, take a look at the PET Folding Sling Tote! It has a nice, large imprint area as well for your custom branding.