Custom laminated bags. You've most likely seen them at the grocery store as a great alternative to plastic bags. These big tote bags are the ultimate transportation device for any and all purposes. We can all agree these bags are cute and functional, and they're not limited to one style.
With so many options on the market, how do you choose? It gets overwhelming trying to find the right bag to fit your needs, so we're here to help make that process easier.
Read along as we introduce you to some of our favorite (and best-selling) custom laminated bags and what we use them for.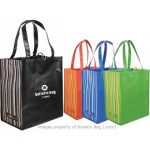 PET Laminated Striped Tote
Of course, we had to give a shout-out to the traditional grocery bags, but with a twist. The stripe design on the sides of these custom laminated bags stand out against the crowd, and we love how many things you can fit inside.
From grocery runs to road trips, to conferences, the recycled plastic material makes these totes super durable while also taking up no space when stored away. We like to keep some of these bags in our car to use while running our daily errands.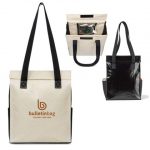 Coated Cotton Shopping Tote
Talk about an upgrade! These beautiful bags take your typical shopping bag and makes it even more helpful. The spacious main compartment allows you to hold multiple things, while the interior pocket makes sure you won't lose your keys or a phone.
We love bringing this bag to sports practice or on a fun day trip around the city. The two side pockets make carrying your reusable water bottle a breeze while you shop with ease!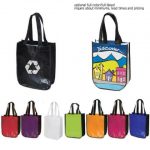 Laminated Mini Gift Bag
Look at this cool piece! These custom laminated bags are an incredible option if you love the laminated look but want a smaller option for gift bags or events. The full-color printing is perfect for a vibrant design but easy cleaning.
We love using them while taking hikes or holding wet swimsuits after a long day at the beach. We know you'll love these bags, and if you don't believe me, then read some of the reviews!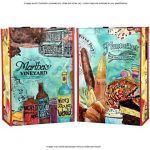 Custom Bags
If you want a bag that will show off your design from all angles, then our fully custom bags would be a perfect fit for you. Full color and full bleed mean that you can customize every inch of this bag with your personal graphics. Since these bags are completely customizable from top to bottom, they have a minimum of 2500 pieces which makes them great for bulk orders or huge events! They also have a longer lead time than our other products. This is something important to note if you decide you want to do fully custom bags rather than custom laminated bags.
The lead time for these bags is 60-90 days and may be extended by around 4 weeks from November to March. This is due to production changes during the Chinese New Year, so make sure to plan accordingly. While this is more time than our other options, these bags are a stunning showcase of your companies professional graphics and a great way to advertise your brand.