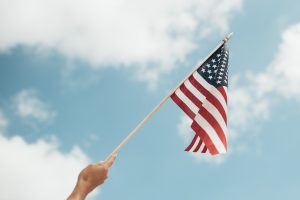 There are a lot of fun events to look forward to this summer. No matter what occasion you are celebrating, we have the perfect custom bag for you! One of the most popular summer events is of course the 4th of July! Customized merchandise like bags and bottles is perfect for pool parties, grill outs, picnics and more. What better way to celebrate the 4th of July than with custom USA made bags! Support American jobs and union workers while offering a quality customized bag to your guests! Let's check out some of our favorites.
The USA Made Vacationer Bag is an ideal tote bag if you're chilling by the pool or packing for a day in the park! The bright colors we offer make it a fun choice for outdoor parties and picnics. It features a zippered main compartment to keep all of your essentials in one place, and different color options for the bottom accent and handles!
This Colored Cotton Everyday Tote is a versatile bag that can go with you just about anywhere! The sizable gussets make it perfect for carrying all your supplies when heading out the door. We love the summery colors this bag comes in too! Make your brand pop on these cute and durable tote bags!
If you're looking for a bag you can throw on your back and stay lightweight, then looking no further than the USA Made Nylon Drawstring Backpack with Zipper. This drawstring backpack is lightweight but can still carry around your favorite water bottle, wallet, keys, and other smaller essentials you need on the go. Plus, it has a zippered front pocket to keep your important items separate! This classic bag is perfect for so many different occasions!
We have quite a few custom USA made bags for you to browse through, you can shop them all here. If you're looking for something specific, reach out of our team of experts here at Bulletin Bag! We are happy to do some digging and help find you the perfect bag for your occasion, even if it's not listed here on our website! We love helping you create your unique vision and complete your project. We have years of experience and have personally tested each and every bag you see here!