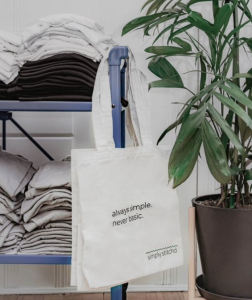 There's never a bad time to release promo products in our opinion. No matter the time of year, there's a personalized product you can create to show off your brand's values and personality. However, we find that it's helpful to align the release of promo bags (and all promo products) with an occasion. Usually that is a company event like a holiday party or new hire training, or a school function like a fundraiser or big game. But there are limitless opportunities to launch your custom promo bags! Here are a few that are coming up over the next few months that we think are perfect opportunities to take advantage of!
Back to School – We all know that back to school time is right around the corner. It's not too late to release promotional products that are perfect for teachers, staff, and students. If you're a school, university, club, or organization, or simply wanting to show school spirt at the next time, this is the perfect time of year to create something unique. Custom bags are the perfect item for so many of these events. We have a whole list of items that we think are perfect for the back-to-school season. Check out the list here.
International Coffee Day (Oct 1st) – This is the perfect opportunity for coffee shops (for obvious reasons) and almost all food and beverage organizations to release promotional products like coffee mugs, insulated tumblers, or even bags to show off your fun coffee-related designs. People love coffee! Take advantage of this fun day and create marketing material centered around it!
National Art Day (Oct 25th) – For the artists who want to expand their offerings and their reach at the same time, this is the perfect time to release custom items with your artwork or logo on them. Customized bags are a unique canvas for your unique artwork. Celebrate your art by putting it on a new medium: custom merch!
Halloween (Oct 31st) – This is a super popular holiday as we all know, and with it comes a lot of fun …costume parties and contests, candy, drinks, and more. The fall season is a great time of year to release custom gifts for employees and customers alike. Everything from beanies and hats for the cold weather to insulated bags are a great option!
Winter Holidays – Thanksgiving, Hanukkah, Christmas, New Year's …the list goes on! Although these may seem like far away in the future, now's the time to start planning for the end of the year festivities! The holidays are a wonderful time of year for employee appreciation gifts, marketing campaigns, giveaways, and more.
These are just a few of the many opportunities that are on the horizon if you're looking to create promotional products! Our team is here to help you plan your design, your messaging, and so much more. Shop all three of our sites to find the perfect products for your organization. We look forward to helping you create something unique!