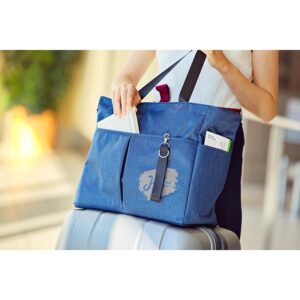 Our team has been hard at work sourcing the best products we can find that will be perfect for our clients' promotional projects. Each product that we add to our site has to pass our rigorous tests and exceed our high standards. Then we personally test out and use the product in our own lives to see how it performs! This means our team really knows our products and can personally speak on their experience with them. With that being said, we are so excited to share with you a new round of brand-new products we've added to Bulletin Bag …with more being added over the coming weeks! Check out all our new arrivals here.
We are so excited about all of the new products we've added, but we want to highlight a few that desire the spotlight!
Large Canvas Boat Tote with Zipper – We know that canvas boat totes are trending right now, and we've got you covered with this awesome bag! This large size has a zipper closure that keeps your belongings secure, and it comes in 6 stylish colors that are sure to make your branding pop. This bag also comes in a medium and small size, so check those out as well!
Go-To Travel Bag – The name of this bag truly speaks for itself! We think this is a stellar option for employee gifts and swag, especially for travel companies. It's the perfect travel companion for businesspeople who travel a lot. It includes a convenient back side sleeve that allows you to slide it over your rolling suitcase, luggage, or roller bag handle!
Metallic Shine Shopping Tote – We love this stylish and unique shopping tote for retail stores and so much more. It's crafted out of non-woven polypropylene with a metallic lamination …so it shimmers as it's used! If you're looking for a unique canvas for your logo, this is it!
These are just a few of the new arrivals that you'll find on Bulletin Bag! We add bags to our site with a lot of intention, so we hope you love these bags as much as we do!